Client Communication (CRM)
Automatic Follow ups
When a project status is updated, our system automatically initiates email follow-ups. You have complete control over the campaign's frequency and schedule, allowing you to define the number of days between sending or even sending emails one or two days before an upcoming appointment. This way, you can ensure that your communication with customers is consistent, timely, and effective.
You can use our built-in messages or customize your own messaging and design your own to create tailored communications that suit each situation perfectly, ensuring that your customers receive a consistent and personalized experience every time they interact with your business.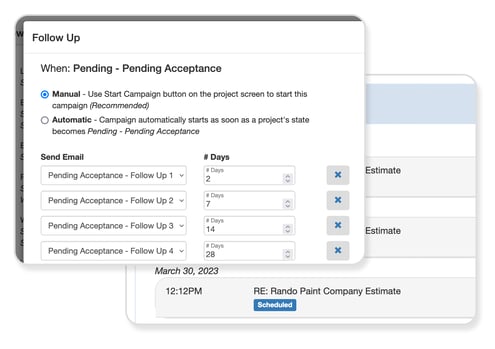 Appointment Reminders
Estimate Rocket can automatically send clients appointment reminders prior to an on-site estimate or the commencement of work. This feature ensures that customers are well-informed and prepared for their scheduled appointments, enhancing their overall experience and satisfaction.
Maintain seamless communication with customers through a secure customer portal, where clients can exchange project-related or general messages with ease. This dedicated platform ensures privacy and fosters efficient collaboration between clients and the service provider, streamlining the exchange of vital information, updates, and feedback.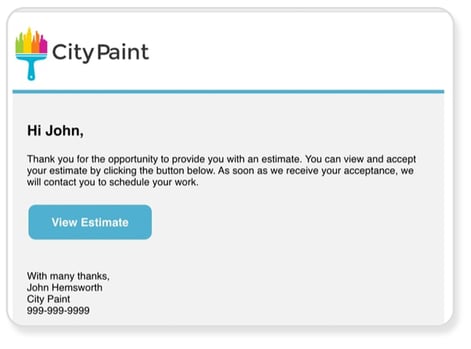 Client Library
Every client entered into the system is automatically saved and organized in your client library. Here you can view all of their current and previous projects, billing information, as well as internal notes on the client and projects.
The powerful search bar allows you to find projects in seconds using project information or custom #tags that you can add to any project. The active search will begin delivering results the moment you begin typing. Searches can be further refined by adding filters that can give you very granular results so you can always find what you are looking for.