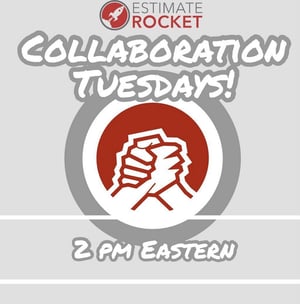 Estimate Rocket Presents - Collaboration Tuesdays
Collaboration Tuesdays are held every Tuesday at 2 pm ET and are open to any Estimate Rocket user to drop in and get fast help! Join with other users who are getting real-world, super-practical training in these areas:

Estimates and proposals
Sales process
Client communication and email campaigns
Scheduling
Team coordination and communication
Invoicing
Reports and business intelligence
Yearly growth planning
Every 45-minute session includes a 15-minute walkthrough of a feature in Estimate Rocket, but a large part of the session is dedicated to answering your questions. Send your team and get them trained – when your team learns more, your company earns more!
August - September
The Quick and Dirty: fast training for specific roles in your company!


Aug 1 - Office Managers
Aug 8 - Estimators
Aug 15 - Sales Teams
Aug 22 - Project Managers
Aug 29 - Field Supervisors
September 5 - Field Users
September 12 - No collab!
Estimating and Sales


September 19 - Estimating like a Boss
September 26 - Communication and Documentation
October 3 - Scheduling and Assignments
October 10 - To Do Checklists