Chat, Email, or Call
At Estimate Rocket, we take pride in providing in-house phone support, staffed by real people who are dedicated to assisting you and your team in making the most of our platform.

Our live chat support, accessible on our website and in-app for all users, accommodates conversations of any duration to address your concerns. Respond at your convenience, and enjoy seamless transition to email chat while on the go, ensuring maximum flexibility in obtaining assistance.

We recognize that phone calls and chats may not suit everyone's schedule, so our team is readily available via email to address any questions or concerns you may have.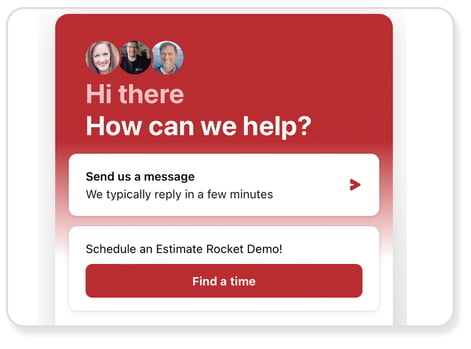 Documentation
The Estimate Rocket Support Hub is a comprehensive 24/7 information resource designed to cater to you and your team's needs. Featuring a diverse range of text and video documentation, our platform accommodates various learning preferences to ensure everyone can access the information they need.
We are committed to constantly updating and enhancing our content library to deliver the highest level of support for your success. By providing clear, concise, and up-to-date guidance, the Support Hub empowers users to maximize the benefits of Estimate Rocket and achieve their business goals.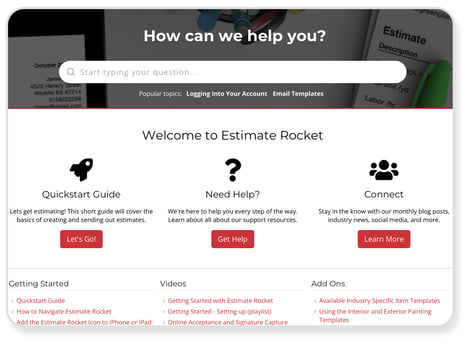 Live Training and Webinars
Our live one-on-one training sessions cater to all users, offering a dedicated time slot to address any questions or concerns related to Estimate Rocket. Our team is committed to ensuring your success with our platform.

Join our monthly webinars to explore a range of topics, from advanced applications of Estimate Rocket to industry news and guest speakers. Stay up-to-date with the latest developments in the field, expand your knowledge, and connect with other users.

Stay up-to-date with industry news and trends while gaining more control over your company through our weekly podcasts and blogs. Our platform provides valuable insights and resources to support your business growth and development.