Our Team
We built Estimate Rocket to help hard-working contractors like you close jobs faster, coordinate work better, and make more money. Every day we wake up driven to figure out how we can help you more, whether it be through providing innovative software solutions, educational materials, or consulting to keep moving your business forward.

Tom
President & CEO
Tom has a passion for developing great technology to solve real world problems and helping customers implement them successfully. Some of Tom's hobbies include hiking, bike riding, and cooking. He'd like to travel to Spain and Alaska some day, his favorite color is red, and he has a rescue dog named Daisy.

Kathleen
VP, Director of Sales & Business Partnerships
Kathleen truly loves sales and building business partnerships. It gives her a chance to tell a story about the exceptional team that we have put together at Estimate Rocket. Kathleen's proudest moment was being the 1st grandchild in her family to go to college. She loves to bake, spin, do yoga, and just about anything with her family.

Bevin
Full Stack Rails Developer
Bevin is obsessed with solving big problems for our customers. Bevin enjoys reading, knitting, yoga, and training her horse, BayMax. She's big on authenticity, sharing knowledge, and being open to new experiences.

Fred
Customer Success and Implementation
Fred takes pleasure helping customers become informed and successful with Estimate Rocket. His approach is to teach you how to fish rather than give you a fish. In his spare time he is an avid woodworker, enjoys 70's and 80's music and loves boating. He volunteers with the local Lions club and town Historical Society. As of 2019 he has attended games at all 30 Major League Baseball stadiums.

Chris
Manager Education & Engagement
Chris believes in the transformational power of education and training ("Training Changes People"), and he excels at creating learning communities which provide people with the necessary foundation for professional growth. Chris's home is in St. Louis and he enjoys spending time with his beautiful two human children, reading piles of books, playing outside, and achieving awesome things with awesome people!

Tanya
Customer Onboarding Specialist
Tanya enjoys customer support, helping clients understand how Estimate Rocket products and brands can best organically integrate into specific industries to promote growth, allowing a work life balance. During her downtime, she enjoys the gym, going to the beach, glass blowing, hanging out with friends and learning foreign languages. Tanya makes a point to give her rescued pets a loving home.

Dave
Customer Success and Implementation
Dave enjoys customer support because he is able to build relationships with the customer, by solving a puzzle by troubleshooting an issue. There is no better feeling in the world than resolving an issue and allowing the end-user to continue on the road to accomplishing their goals. When he's not troubleshooting, Dave enjoys spending time on the beach or watching one of his favorite sports teams bring home the Win. Most importantly Dave loves spending time with his family, including his 3 cats and his two rescued Pitbulls.

Leonardo
Full Stack Developer
Leo takes prides in building applications that help our customers be successful in their ventures. Leo enjoys mountain biking and woodworking.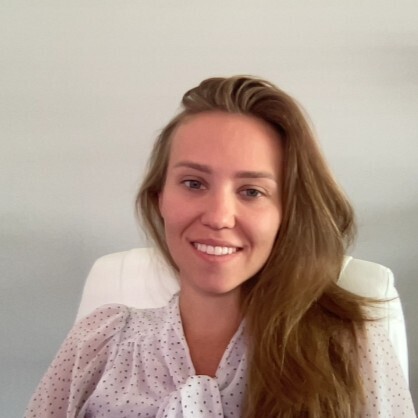 Anna
Automated Test Engineer
Anna is truly in love with her job. It gives her a chance to learn something new everyday. And makes her happy to know that end user will enjoy bug-free application. She loves to travel, so far she has visited 26 states and 13 countries and has no plans to stop.

Megan
Freelance Marketing Expert
Megan Sullivan has over 15 years of experience in advertising, media sales, operations and entertainment with companies like Disney, 20th Century Fox and the Orlando Sentinel. Megan is currently pursuing a Master of Science degree in Information and Library Science at the University at Buffalo.

Dan Burrus
Global Strategic Technology Consultant/Shareholder
Dan has over three decades of being right about where things are going. Working with leaders from Fortune 500 companies to the Pentagon, Dan creates strategic value and a competitive advantage by anticipating the future. https://www.burrus.com

Duke
Customer Success Team
Great listener, enjoys long walks, running, eating and long naps.