Team Collaboration
Regain control of your organization by consolidating project details into a single, searchable location that is accessible to all members of your team. This ensures that critical project information is never lost and can be retrieved quickly and easily whenever needed.
Our platform streamlines project management by providing all-in-one capabilities such as address tracking, contact management, estimates and invoices generation, change order management, time and expense tracking, file uploads, customer portal management, to-do lists, notes, and more. With these comprehensive features, you can simplify your operations and improve your project management processes.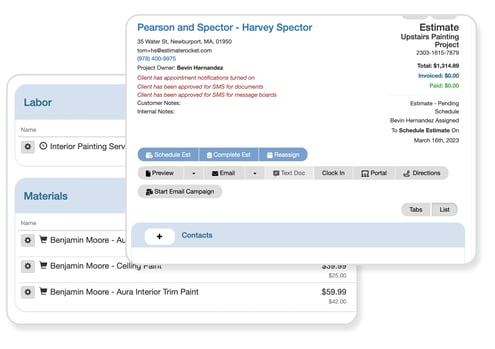 Drag & Drop Schedules
Our user-friendly interface lets you easily schedule new work and reschedule existing appointments with a simple drag and drop. Plus, automatic updates ensure that your team members are always in the loop.
When scheduling or rescheduling tasks, our system automatically sends a notification to any assigned employee. This ensures that everyone is kept up-to-date and on the same page, streamlining your workflow and increasing efficiency. No more missed appointments or confusion - our automatic notifications have got you covered.
Ensure that everyone is included in the scheduling process by easily adding additional field users to tasks and appointments. This allows you to involve the right people and ensures that everyone is on the same page.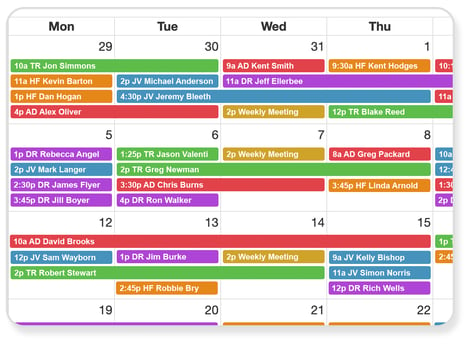 Always Profitable
Each item in Estimate Rocket includes dedicated fields for labor and material costs, which can be saved and automatically applied when the item is used in a project. This streamlines the project planning process, ensuring that accurate pricing information is consistently applied across all projects.
Estimate Rocket includes a real-time profitability section for each project, which automatically updates as items and services are added. This feature provides instant feedback about costs, profits, and margins, allowing you to make informed decisions and adjust your approach as needed to maximize profitability.
View estimated and actual costs for labor, hours, and materials on every project before sending out the estimate. This provides critical insights into project costs, enabling you to refine your pricing strategy and ensure profitability on every job.