2016 Contractor Gadget Gift Guide
2016 Contractor Gadget Gift Guide | Estimate Rocket
---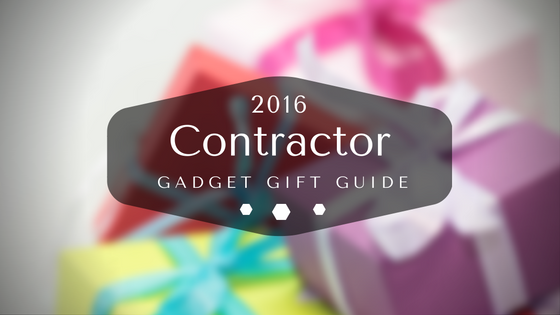 If you're looking for the perfect gift for your favorite contractor, look no further! We've gathered some of the best gadgets to make their lives easier and help them get more done on-the-go.
At the Jobsite
Integrating technology into your work at the jobsite can speed up the time it takes to do a job, improve efficiency, and keep you and your crew safe.
Magnetic WristBand
Never lose a screw or nail again with a Magnetic WristBand. The MagnoGrip is inexpensive, made of durable 1680D ballistic polyester, and will keep metal screws and other small tools on your wrist where you can always find them.
MagnoGrip 311-090 Magnetic Wristband $13
Hands Free Light
Free up your hands from carrying a flashlight and see and be seen by others if you're working in the dark.
Halo Light $149
E-SMART Super Bright Wrist LED Light $18
USB Battery Pack
Keep your devices charged with a USB battery pack. If you're on the go and don't have access to an outlet, there are some great affordable options to keep you connected. The Jackery Bolt fits in your pocket and is great for when you're in a pinch and your phone needs a boost at the end of the day, while the RAVPower Ace Series 22000 Power Bank is larger but can charge your phone every night for about a week.
Jackery Bolt $22
RAVPower 22000 mAh Ace Series Portable Charger $40
Tablet
A tablet is tough to beat when it comes to mobile work, and the iPad Air 2 is an excellent option. It's lightweight and powerful, and also has an anti-reflective screen, an improved camera, and convenient Touch ID. Another great option is the Nvidia Shield Tablet. It's about the same weight as the Air 2, has great graphics, and is quite a bit cheaper.
iPad Air 2 $500
Nvidia Shield Tablet $200
Mobile Wifi Hotspot
Many contractors travel often and staying connected is vital to keeping businesses afloat. Even though most phones can create a mobile hotspot, they can be unreliable. A mobile wifi hotspot offers more reliability than a phone-created hotspot and longer battery life, while letting you keep your phone free for doing other things. Verizon and AT&T both offer good options.
Verizon Jetpack® 4G LTE Mobile Hotspot—AC791L $50 (with 2 yr contract)
AT&T Unite $50 (with 2 yr contract)
Laser Tape Measure
Laser tape measures like the DMiotech allow you to take large measurements without an extra set of hands, which is great if you're at a jobsite alone. This Bosch laser tape measure takes it a step further by sending those measurements to the app on your phone or computer.
Bosch GLM 100 C $199
DMiotech 131 Feet / 40 Meter Digital Laser $30
A Great Water Bottle
Staying hydrated on the jobsite during the heat of summer is critical. There are a lot of great affordable options like Kleen Kanteen to keep your water cool. Some, like the Nomader, are even collapsible so you can fit it in your pocket when you're on the go.
Klean Kanteen Wide Mouth Bottle with Stainless Loop Cap $17
Nomader Collapsible Water Bottle $17
In the Mobile Office
If you're like many contractors, you probably spend more time in your vehicle than in the office. Fortunately, there are ways you can make that small space an effective, efficient, on-the-go office.
USB Car Charger
Make sure your device stays charged in your car with a USB car charger like the Anker PowerDrive 2. Most of these chargers are inexpensive, unobtrusive, and have an led light for visibility.
Bluetooth Headset
Having hands-free accessibility for your phone is invaluable. Not only is it convenient and lets you to talk to employees or clients while driving, but allows you to keep both hands on the wheel.
Plantronics Voyager Edge Wireless Bluetooth Headset $82
Laptop
If you like using a computer rather than a tablet, there are some great budget options to use in your mobile office. The Acer Aspire E5-575G-53VG has a 12 hour battery, better performance than most others in the budget price range, and has all of the essentials most people need for everyday usage.
The Wirecutter has a great guide on choosing the right laptop for your needs. Read it here.
Laptop & Smartphone Car Mounts
A smartphone car mount like the TechMatte MagGrip CD Slot Car Mount makes it easy to navigate or answer a client phone call while on the road. While you're not driving, use a laptop mount like the RAM Seat-Mate and get more work done from your mobile office.
TechMatte MagGrip CD Slot Car Mount $11
RAM Seat-Mate Laptop Mounting System $167
Portable Scanner
Papers get lost, damaged, and thrown away accidentally. Keep them at a minimum by having a portable scanner like the Fujitsu ScanSnap in your truck. No more shuffling through papers, scan and search them quickly and easily.
Fujitsu ScanSnap S1300i Mobile Document Scanner $243
Portable AC Power Supply
If you travel a lot, a portable power supply is a great thing to have on hand. Power supplies like the ChargeTech Portable Power Outlet are small and portable. The ChargeTech has both USB and AC outlets so you can charge your phone, laptop, and just about any other gadget you need to power.
ChargeTech Portable Power Outlet $185
Smart Notebook/ Notepad
If you prefer making notes using pen and paper but want those notes to be saved without having to search through a notebook, a smart notebook or notepad is a great solution. The Wacom Bamboo Spark lets you take handwritten notes on any paper and saves it digitally so you can edit, share, and search for it later.
Any awesome gadgets we missed? Let us know in the comments, or on Facebook, Twitter, or LinkedIn!