hiring
Advice for hiring the right team to keep your business growing
---
Hiring employees is one of the key areas that can most influence the success of your business. Having like-minded people on staff who are committed to outstanding client service and who are well-trained in their roles makes it easier than ever for you to reach your business goals.
However, finding and hiring the right people isn't always easy. Gone are the days of placing a want ad in the paper and fielding phone calls from interested applicants. According to a study by USG Corporation and the U.S. Chamber of Commerce Commercial Construction Index, 54% of the contractors surveyed said it's difficult to find skilled workers. And 70% of these same contractors said that they are finding it difficult to meet deadlines, while 40% said the worker shortage is causing them to reject new projects.
So, how do you reach a younger generation of construction workers to close this hiring gap? Here are a few things you might find helpful next time you're looking to recruit.
#1 - Dispel the myths.
In the same survey cited above, contractors believe that the following "myths" about the construction industry prevent it from being a desirable job choice: all construction jobs are dirty jobs; construction is about brute strength, not training; and construction work is a job, not a career.
Focus your messaging on dispelling these myths. Make sure to call-out any training or advanced certificate programs you might reimburse your workers for. Make a point to highlight the opportunities for growth, either within your company or the industry in general. In the USG / U.S. CC CCI study, 43% of the contractors surveyed said there is good potential for career growth within the industry.
#2 - Highlight the money.
Whether anyone wants to admit it, money is the biggest issue on the minds of most potential employees. While things like work-life balance and health insurance are very important, employees want to know that once they accept your offer, they'll be able to pay their bills.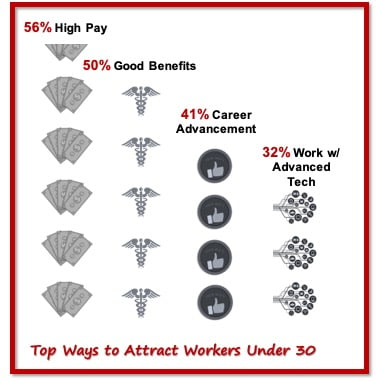 Source: USG Corp. & U.S. CC CCI 2019
#3 - Cast a wide net to find potential employees.
The older ways of finding new employees no longer apply. (See the want ad example at the top of this article.) Do your best to diversify where your jobs are listed. While industry specific job boards are important, don't leave out ones with a broader reach either, like LinkedIn. The good news is that job aggregators, like Indeed.com, will scrape these job sites, so your position will show up for users on their platform.

#4 - Consider using social media as a way to reach potential employees.
If your business has a Facebook page or Twitter account make it a point to list the openings there and ask folks to share with anyone they think may be interested.
#5 - Brush up on your interviewing skills.
How do you interview? Do you have a set list of questions you use? When was the last time you took a look to see if they were really working? Don't be afraid to change up the way you evaluate potential hires, especially if you're having a hard time holding on to new employees. Consider looking to some of the bigger players in recruitment, like Robert Half for advice on how to conduct an employment interview.
#6 - Create a hiring plan.
The one thing you don't want is to be caught off guard when your busiest season rolls around. Don't put off hiring until it's too late. This can lead to quick, and often sloppy, decision-making that might get you a warm body on a construction site, but won't necessarily get you an employee who will last.
Evaluate your upcoming quarter or year and take into account when you anticipate being the most busy. Make sure to start recruiting at least 8 weeks prior, although 12 weeks is better. You want to be sure to build up a good pool of resumes to choose from before making any decisions on who to interview.
Hiring is probably the second most important thing you'll ever do for your business, besides the actual work you do for your clients. Make sure to give it the proper amount of attention so you can be sure to find the best employees for your workplace.
At Estimate Rocket we care about you and helping your business grow, that's why we want you to have the tools and information you need to be successful.