Building a Business: Premiere Pros Painting & Carpentry
---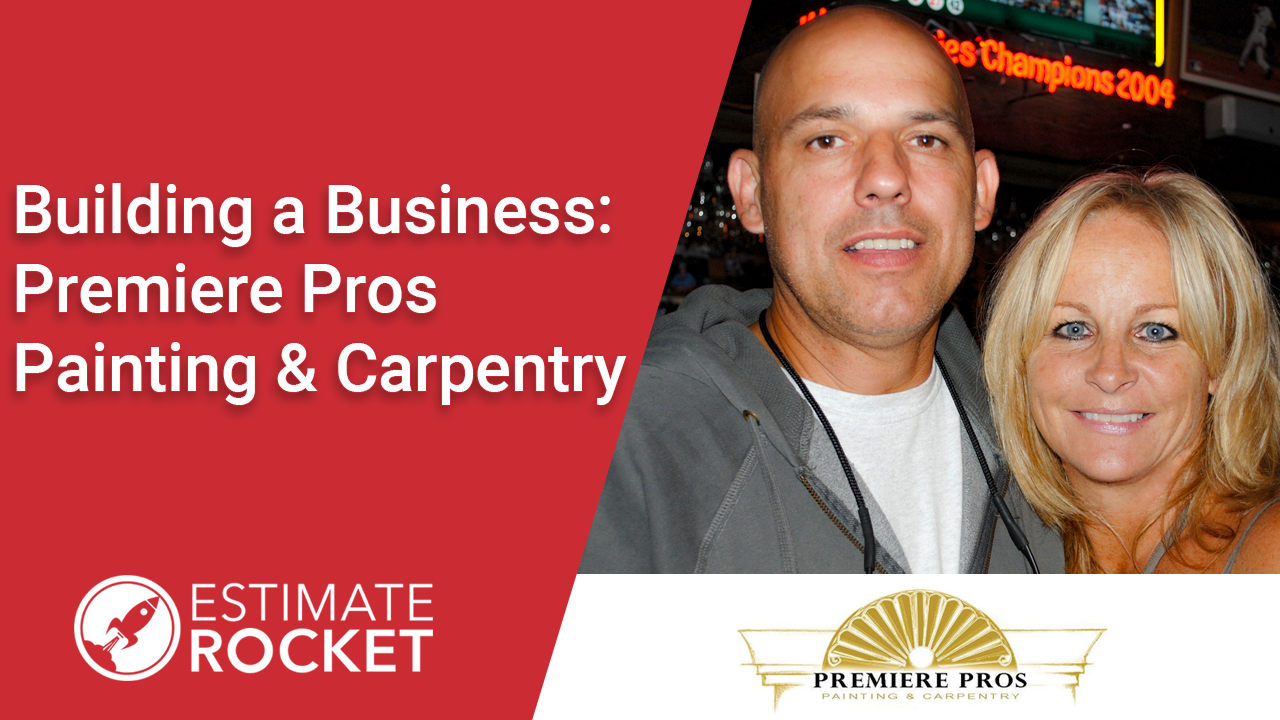 I recently had the opportunity to speak with some Estimate Rocket users about their businesses. It was a wonderful chance to get to know our customers and learn about how they got to where they are today. In this series, we'll share stories about what they did before, how they got started, and their experiences along the way.
This time, I talked with Kristen Ford-Hernandez about her business, Premiere Pros Painting & Carpentry- a home improvement company that specializes in cabinet refinishing, painting, refacing, interior painting, and fine finish carpentry.
What were you doing before you started your business?
I was in sales and marketing for close to 20 years when I met Joe (my husband) when I hired him to work on my home in 2005. It was my first home, but I had previous experience with contractors and found a few that were a bit untrustworthy. Joe's approach was to educate me versus selling me, so I hired him on the spot. We hit it off immediately, and the day after the job was finished he called me and asked me to lunch. We've been together ever since.
What made you decide to start a business?
About six months into dating, Joe mentioned he wasn't really happy with his current partnership. He knew I was working solely commission-based for a software company, and had sales and marketing experience. I've always had a passion for architecture, New England homes, and interior design. So, I think he knew I was truly interested and excited about what he does, and everything just sort of came together. We decided to start Premiere Pros in 2006 and it's been not only a phenomenal venture, but so much fun working together and meeting so many homeowners, with a few of them becoming dear friends.
What are the most difficult parts of running your own business?
The overall running of the business can be a bit daunting, but it's even more challenging when you're growing fast; how do you manage it properly? How do you hire quality people? How do you stay financially viable throughout the growth process? Initially, we grew pretty fast and had a second crew, but we found that we lost some quality. We want to make sure the quality is there, so we scaled back and Joe's now on every job. Our staffing varies anywhere between three and five guys, and we also have somebody who only works in the shop. Joe's daughter Mia, my stepdaughter, also is hands on with her dad on every job.
When Joe was in his 20s, he owned a custom upholstery business so he has experience with running a business, but I personally have never owned a business before. I have a corporate background, so I know from my customer service and sales training to always think of the customer - how do we communicate better with the customer? How do we set better expectations? There are many challenges, but I think if you maintain that level of quality and service, you'll get there.
What are the most rewarding parts?
The excitement that comes when the job is done and the relationships that are formed over the years are the best parts. We both love working with people and we have so many customers that I'm so grateful for. Seeing them get excited about their home, to me, is the most gratifying thing about what we do. On one occasion, we painted and did the cabinets over for a woman in Stoughton. She was so excited about the transformation and wanted to show me that she had re-painted some of her decor to match the new color we'd painted the room. It was the cutest thing!
What advice would you give to someone starting a similar business today?
Network. When you network, you become a walking advertisement for your business. In addition to that, you meet so many people from different fields that can give you advice, tips, and suggestions that can catapult your business. I think people feel like networking is good if you want to get business, which it is, but that's secondary- you get your name out there but you also get listen to what other, more experienced people have to say. There are so many people out there that have started their own business or are in finance and can tell you what you need to do for bookkeeping, for example. I've learned so much from networking, so that would be my number one piece of advice.
Where do you see yourself and Premiere Pros in the next 10 years?
Joe's 61 and I'm 53, so I think in 10 years we really would like to do less. We're really happy with where we are - and we just won Best of Houzz for our fifth year in a row. It's been truly phenomenal, but we'd like to put the proper people in place and groom them to be able to take on more responsibilities so that we can relax a little bit and have more time together.
We want to say a big thank you to Kristen for taking the time to talk with us about Premiere Pros!
If you'd like to be featured in an interview, let us know by sending an email to support@estimaterocket.com. You can also reach out to us on Facebook, Twitter, or LinkedIn!