A 24/7 Call Center Prepared to Load Your Estimate Rocket with Leads
---
By Paul DelFino, Opportunity Inc.
Missing Calls Means Missed Business
Having a call go unanswered can stop a customer in their tracks. They may not want to call back. Worst case scenario, they'll find your competitor and get the service they need there.
51% of mobile searchers say they regularly call a business from a mobile search ad - Google
52% of people who connect with a business after a mobile search will do it over the phone - Luma Partners
65% of people prefer to contact a business by phone vs. just 24% who prefer to fill out an online form - Invoca
According to Prospect Genius, roughly 30% of clients' incoming calls go to voicemail. That could be problematic for your business. Forbes mentioned statistics that show the majority of callers that reach voicemail hang up because they feel the message won't be listened to. Below is a table, created by Prospect Genius, breaking down how much revenue you could potentially miss out on by not answering the phone.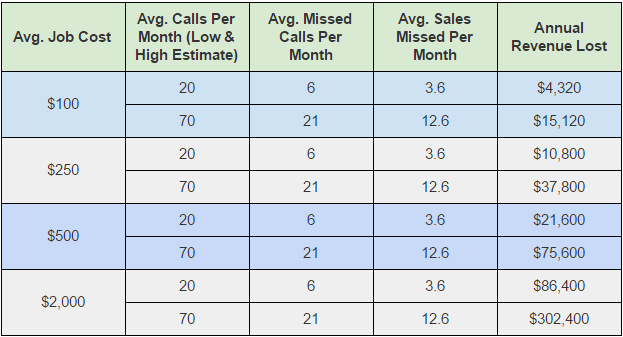 A 24/7 Call Center can Prevent Missed Calls
Several Estimate Rocket customers are successfully working with ICG www.informationcommunicationsgroup.com, located in Kansas. ICG is a 24/7 Call Center that has trained all their agents on Estimate Rocket. They have the capability to handle all incoming prospect calls for nearly any business and load your account with prospect data and more. To understand their capability as a business partner, check out this video.
Get the Most out of Your Ad Dollars and Estimate Rocket
No matter what business you're in, there's a high probability that ICG can professionally introduce your business to prospects so your phone is never not answered. Your program can be customized for when you need it - after hours, weekends, any time. Allow them to load your Estimate Rocket so you can be sure you're not losing revenue.
What should we write about next? Let us know in the comments, or on Facebook, Twitter, or LinkedIn!